Hinkle's Heating & Air Conditioning offers the finest equipment for all of your HVAC needs. These products include…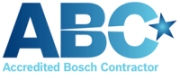 We are proud to be an Accredited Bosch Contractor! Bosch heating and cooling products include tankless water heaters, heat pump water heaters, wall-hung boilers, Bosch boilers, Buderus boilers, geothermal heat pump systems, FHP commercial water source geothermal, and Florida Heat Pumps as well as controls and accessories.
---

Buderus offers the finest in Oil & Gas Hydronics! With over 280 years of experience in casting boilers, only the best boilers pass there rigorous testing and go on to provide reliable heating for years to come.
---

Mitsubishi cooling and heating systems give you the freedom to control your comfort in each and every room of your home. With more ENERGY STAR® qualified systems available than ever before, an allergen filtration capability to clean the air, and indoor units that operate at sound levels quieter than a human whisper, the Mitsubishi Electric systems are the right choice for your home comfort needs.
---

Viega ProRadiant Heating systems gives you the ultimate in home heating. In floor heating is the most comfortable way to heat your home, is 30% more efficient and adds value to your home.